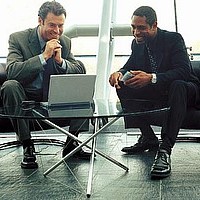 YOUR OWN HR & BENEFIT WEBSITE!
On-Line Access to HR Content & Employee Benefits 24/7
We can build and maintain an intranet for you! An intranet is an internal web based resource that is only accessible by employees of the company which allows Human Resource to communicate company information. Communicate not only to employees at work, but also for employees at home, on the road, at the doctors office or even on their travels.
Advantages for Employers and Employees:
Organizational tool helps recruit and retain the best employees by providing a professional HR & employee benefits website
Eases enrollments and changes with 24/7 resource for the information they need
Improves employee communication with unique aggregation of benefits and compensation information in a professional website
Increases employee satisfaction by simplifying benefits administration tasks
Increase employee knowledge of total compensation and understanding of benefits plans
Ability to communicate all internal policies and procedures: Employee Handbook, Sexual Harassment, Dress Code, Safety Regulations, OSHA regulations, Vacation Schedule, Holiday Schedule, Employee of the Month or Fund-raising Drives
Ability for HR to store unlimited forms & create forms library
To view a demo, email us: frank@ebsolutionsLLC.com